Read Time:
3 Minute, 9 Second
Trade CS Moses Kuria vividly recounts moments that forced him to hide in Raila Odinga's home after a police beating during the KANU era.
On Thursday, 21st September 2023, while launching Industrial Park in Siaya County, the Trade Cabinet Secretary recounted how a gang of police officers attacked him, forcing him and other significant people—including politicians and celebrities—to hide in a cactus plantation at the residence of the former opposition leader Jaramogi Oginga Odinga.
Moses Kuria narrated how former President Daniel Arap Moi imposed a curfew on the opposition leader's home and ordered that no function or ceremony should be performed at the residence after 6 o'clock in the evening.
The Jaramogi family defied the regime's directives and organized a disco matanga with the help of local leaders and officials.
Read: Moses Kuria defends Governor Waiguru over women rep row
"We returned to Kang'oo Ka'Jaramogi one year later to celebrate his life, but former President Daniel Arap Moi's administration did not want us to mark the anniversary.
"Former President Moi had assured us that there was not going to be any live music, something that we did not agree with," the Cabinet Secretary narrated.
Kuria disregarded the local government's advice and remained put to take in the evening music in remembrance of Jaramogi, whom he referred to as a father and a mentor.
Read: How Raila Odinga Saved Moses Kuria's Future from Tumbling
How Jaramogi Oginga Saved Moses Kuria from being expelled from the University of Nairobi
Moses Kuria further narrated how Jaramogi played a pivotal role in his life having saved him from possible expulsion while he was studying at the University of Nairobi (UoN).
"On January 20, 1994, we were here to bury Jaramogi Oginga Odinga, the man who instructed former Homa Bay Senator Gerald Otieno Kajwang to represent me in court, to which, I got an injunction that stopped me from being expelled from the University of Nairobi," Kuria stated.
"When I remember the journey that Governor James Orengo, Senator Oburu Odinga, and I had some 29 years ago, in 1994, I'm glad that we are here.
Kuria recounted how a contingent of police officers raided the home as the celebrants gathered to listen to a local musician who had barely started performing.
"So, as it was getting dark, other dignitaries including former Nigerian President Ole Segun Obasanjo were present as well as a former military ruler.
"The music started at around 6:30 pm. No sooner had the musician Okach Biggy started playing music than the police intervened, and threw teargas at us," Kuria narrated.
What followed was a beating of the people who had started dancing at the compound. The police officers also chased after Kuria and Oburu, Raila's elder brother.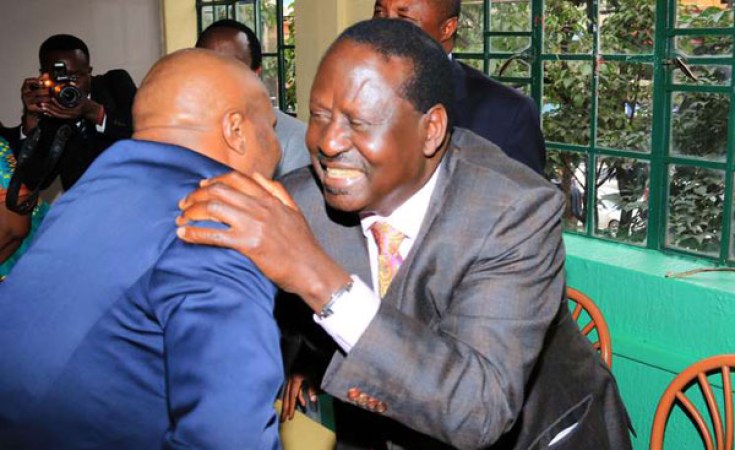 "The police then descended on us, and forced Oburu and I to hide inside a nearby cactus plantation inside the compound of Kang'oo Ka'Jaramogi.
"We were later whisked to safety, and taken to Opoda farm where former Prime Minister Raila Odinga prepared for us chicken. That is the best chicken I have tasted in this part of the world," Kuria narrated.
"Today, I am here as a Minister, Orengo is a Governor and Oburu is a Senator," Kuria stated.
Kuria assured Raila and Nyanza leaders of his commitment to ensure that the region is developed, and not left behind in any way.