Read Time:
5 Minute, 38 Second
John F. Kennedy, often referred to as JFK, was a charismatic and visionary leader who left an indelible mark on American history and the world. In this post, we will delve into the life, achievements, and enduring legacy of John Fitzgerald Kennedy, the 35th President of the United States.
Early Life and Education
John F. Kennedy was born on May 29, 1917, in Brookline, Massachusetts, into a family of political and social prominence. His father Joseph P. Kennedy, Sr. later served as US ambassador to England and his mother Rose Fitzgerald Kennedy was the daughter of the Mayor of Boston.
His early life was marked by privilege, but it was his education and experiences that would shape his future. He attended Harvard University, where he wrote a senior thesis that would later become a bestselling book, "Why England Slept." This work showcased his intellect and foreshadowed his future as a statesman.
He graduated from Harvard University cum laude with a Bachelor of Arts Degree in government with a concentration on international affairs.
Military Service
During World War II, Kennedy volunteered for the U.S. Navy, in WWII Solomon Islands Campaign.
He served between 1941 and 1945 and commanded Patrol Torpedo Boat 59 (1941-1942) and Patrol Torpedo Boat 109 (1942-1943). He displayed extraordinary bravery and leadership as the commander of PT-109 when it was sunk by a Japanese destroyer.
His actions in saving his crew earned him the Navy and Marine Corps Medal. He also received the following military awards; Purple Heart Medal, American Defense Service Medal, American Campaign Medal, Asiatic-Pacific Campaign Medal with three 3/16-inch bronze stars, and World War II Victory Medal
This wartime experience instilled in him a deep sense of duty and resilience that would serve him well in his later political career.
Marriage
John F. Kennedy and Jacqueline Lee Bouvier were married on the morning of September 12, 1953, in St. Mary's Roman Catholic Church in Newport, Rhode Island. The more than eight hundred guests included many notable individuals.
Together they had four kids but only two survived; Arabella Kennedy (stillborn), Caroline Kennedy, and John Fitzgerald Kennedy Jr. and Patrick Bouvier Kennedy (born prematurely)
Political Career
Kennedy's political journey began as a Congressman from Massachusetts in 1947. He then served as a U.S. Senator from 1953 to 1960. His tenure in Congress was marked by a commitment to social justice, civil rights, and healthcare reform.
In 1960, John F. Kennedy announced his candidacy for the presidency. His vision of a "New Frontier" promised progress, social reform, and a commitment to space exploration. He ran against then-Vice President Richard Nixon and won one of the closest elections in American history. On January 20, 1961, he was inaugurated as the 35th President of the United States.
Presidency and Iconic Speeches
Kennedy's presidency was marked by several iconic moments and speeches. One of the most memorable was his inaugural address, in which he famously challenged Americans to "ask not what your country can do for you, ask what you can do for your country." This call to service and civic engagement became a rallying cry for a generation.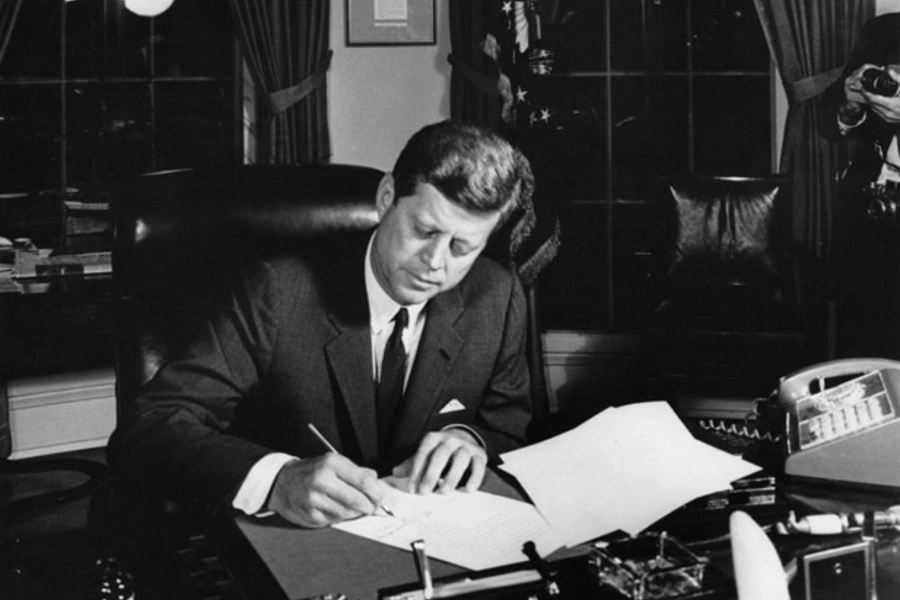 He also initiated the establishment of the Peace Corps, aimed at promoting peace and friendship by providing assistance to developing nations. Additionally, he launched the Apollo program, with the goal of sending an American to the moon and returning safely to Earth, which was eventually achieved in 1969.
Read: Jackie Kennedy; An Enduring Legacy of Grace, Elegance, and Resilience
Civil Rights and the Cuban Missile Crisis
John F. Kennedy was a staunch supporter of the civil rights movement. He faced significant challenges and opposition as he pushed for civil rights legislation, but his commitment to justice and equality was unwavering.
The Cuban Missile Crisis in 1962 was a pivotal moment in his presidency. Kennedy's measured and diplomatic approach helped resolve the crisis and avert a nuclear conflict. His leadership during this tense period demonstrated his capacity to handle the most formidable of international challenges.
Assassination and Legacy of President John F. Kennedy
On November 22, 1963, John F. Kennedy was tragically assassinated in Dallas, Texas. His death shocked the nation and the world, leaving a void that is still felt today. Despite the brevity of his presidency, JFK's legacy continues to inspire generations. He is remembered for his charisma, vision, and commitment to service.
John F. Kennedy's life and presidency symbolize a period of hope, progress, and possibility. He challenged the nation to dream big, reach for the stars, and embrace change. His commitment to civil rights, healthcare reform, and diplomacy in times of crisis left a lasting impact on American society and politics.
Read: National Geographic's Acclaimed Series 'One Day in America' Dives Deep into the Kennedy Assassination
Legacy
He Established the Peace Corps (1 March 1961) and Introduced a stimulus package to balance the U.S. economy and end a recession that would increase the minimum wage, expand unemployment benefits, promote Social Security benefits to encourage workers to retire at an earlier age, spend more on highway construction, and push for lower tax rates, expanding GDP's growth average from 2.2% per annum to 5.5% from 1961 to 1963.
He is remembered for the Bay of Pigs Invasion (17-19 April 1961), the Cuban Missile Crisis (16-28 October 1962), and the  Nuclear Test Ban Treaty (5 August 1963) and he advanced the manned space program with the goal of landing a man on the moon before the end of the 1960s (achieved 20 July 1969)
His legacy also includes the Trade Expansion Act (1962), the Equal Pay Act of 1963 (June 10, 1963)', the Establishment of the Basis for the Civil Rights Act of 1964 (passed in 1964)
He Awarded a Pulitzer Prize for biography for his book Profiles in Courage. (1957) and he also authored A Nation of Immigrants (1958)
As we reflect on the life of John F. Kennedy, we are reminded of the enduring power of leadership, vision, and the call to serve one's country. His legacy continues to inspire individuals to strive for a better world, to seek justice, and to engage actively in the pursuit of progress and social change.